1 Oct, 2019
by Support ZTelco
New ExtensionFlow™ Technology for Beta Users
ZTelco expands customer usability with ExtensionFlow™ technology. ExtensionFlow™ is a ZTelco proprietary software (SAAS) that allows for enhanced analytics for tracking and optimizing hotdesking work environments. Currently, in beta development, this service is only available to select ZTelco phone customers who were tasked with implementing and testing these hotdesking features.
We created a software that will link your telephone extension to a computer login.  Simply log into your computer, and your phone (along with its contacts, extensions, and messages) will update for the new user. Members who are in a queue can now get correctly added into the groups where ever they happen to be sitting, just by logging into their computer.  This was made possible by a custom script that taps into the active directory server logs to detect when a user logs into a computer. It then sends a ping to the associated phone device and tells it to reconfigure to match the detected user's extension number.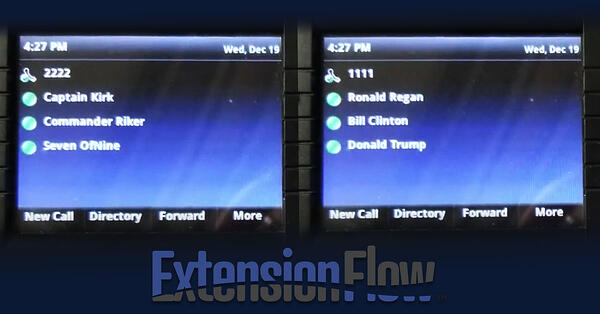 "Its really quite exciting and I'm not aware of anyone else who has this feature."

—Jake Hansen, President, ZTelco Communications
Maximize Business Mobility
This solution is perfect for organizations that need to manage multiple extensions from the same desks or those organizations where individuals need maximum mobility within the organization and work from multiple locations. Rather than having to rely on cell phones and fragmented data to do the job, ZTelco now makes it easy to centralize your communications and gather the data necessary to optimize results.
Connect Like Never Before
Consistently tracking user stats and user analytics with ExtensionFlow™ allows business leaders to analyze more information than ever before. Rather than rely on fragmented data, business leaders can now implement strategic changes based on complete data sets across sales, marketing, and customer support teams.
Deploying ExtensionFlow Technology
A select group of customers who have previously signed up to be part of our Beta Testing have been selected to participate in testing the ExtensionFlow™ software. These testers were selected for their specific needs in hitting targets on phone-related metrics. Testers were also selected based on the nature of their business, where numerous employees would routinely sit at a different desk throughout the day. These testers were often relying on company cell phones or general office lines, and could not take advantage of many phone features only available to extension lines. Tracking stats across sessions was not possible with their current setup and were perfect candidates for this study.

ZTelco plans on slowly rolling out ExtensionFlow™ technology to customers as we begin with final rounds of development. Thanks to customer feedback, we have already identified ways to improve this technology further and look forward to a future launch date, scheduled for 2020.