19 Sep, 2019
by Marco Castillo, M.S.
Selling Peace of Mind as a Service with Integrations and Unified Communications
Although it's true that we have been advertising business internet and business phone systems, is this what customers are really looking to buy? Not really, most of all, business customers are looking for peace of mind. We provide that with Unified Communications.
It's easy to assume that just because we market ourselves as service providers, touting blazing fast internet speeds and better phone systems, we would define ourselves by these services, however, our customers are not looking for products or services.
Our customers are looking for solutions to tough business problems, and often don't know exactly what mixture of tools and services will do the job. They are tired of missed opportunities and are tired of missing data that can tell them the full story of how things are going on a day-to-day basis. These pain points initiate the search for something better, the search for a better service provider.  
Business leaders are looking to grow their operations and they are tired of all the pain points associated with traditional methods of connectivity. ZTelco seeks to address these pain points with advanced features designed to meet and overcome today's challenges.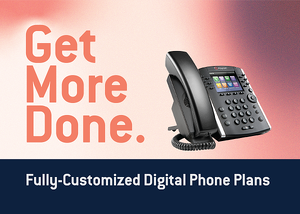 What Does Peace of Mind Have to do with Unified Communications?
Peace of mind is everything to business customers. Not having peace means restless nights and frustration all around.
Customers need a company they can trust to provide reliable communication solutions that will not break the bank and will provide data for making better decisions. This provider cannot let them down because so much is riding on business getting it right.
Our customers are not buying internet service or business phone systems. They are buying the security that comes from working with a dependable carrier that can help them scale, can help manage their sales, can help monetize customer service, and can optimize their marketing calls from a central hub.
Our customers are not looking for á la carte solutions, they are looking for an all-in-one platform that offers advanced business solutions and data needed to solve these difficult pain points. More than anything our customers are searching for a business partner who can tie it all together in one unified platform.
We Have Skin in the Game
We Built a Truly Redundant Internet and Phone System for Businesses, Then Added Additional Features in Our RingPlan Phone System
Over the past 20 years, ZTelco has spent a lot of time developing a faster fiber network and an advanced business phone system that customers can rely on for monitoring usage activity and for valuable data collection. Our redundancy protocols ensure connectivity, so business owners and customer support staff can rest assured knowing their network has been secured. Customers with advanced needs may choose added protections such as double or triple redundancy protocols to further strengthen their network connection.
A truly redundant system will ensure your organization stays connected. In a redundant network, different avenues to connect are established for seamless connectivity even in the rare case of equipment failure. When peace of mind is important, you will be happy to have a secure redundancy protocol in place.
On top of peace of mind, ZTelco's Unified Communication solution with the RingPlan phone app makes it easier to get things done. By combining phone, video conferencing, text messaging, digital fax, automation, and more, our customers are managing their communication from one platform.
Bundled Services – Not Your Typical Provider
Getting installed is fast. You can get your phone system up and running in no time. With self-installation, you can quickly get a new phone number and can start making calls the same day. For advanced installations and to port your existing number, we recommend going through our full onboarding process to ensure your entire system works the way you intend it to work.
Our internet installation is fast. Rather than customers waiting for lengthy fiber installation, our internet solution is wireless. Using a fixed microwave radio tower that is placed on your building rooftop, we are able to connect users with the closes fiber source in their city. With speeds up to 15Mbps+ made available to businesses, one tower can connect an entire enterprise from startup to 1000+ employees in multiple locations.
With more speed, you can do more. We invite you to unleash the potential your business is holding back. Get connected to a truly scalable data plan that saves you time and money. A plan that allows you to optimize your business and grow your ROI.
Connect with us for a Price Quote
---