23 May, 2022
by Marco Castillo, M.S.
Introducing New Phone Automation Technology – RingPlan Business Phone Plans
ZTelco has launched a new cloud-based phone system equipped with the automation tools needed to gain a competitive advantage while saving money and optimizing time.
ZTelco Built One Smart System Called RingPlan
Driven by the headaches involved with managing multiple services and devices at the same time, we are integrating phone, video, text, and fax into one platform.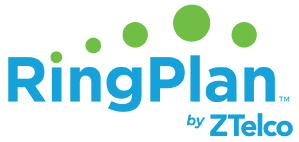 After all, outperforming competing businesses requires you to have the best tools for the job.
Saving money in the process is an added advantage, but having everything working together and saving time can make a real difference for businesses with over-burdened call centers.

Saving Time is an Added Advantage—Integrating Business Tools + Automation
Automation provides the agility a business needs to move faster and save time. Can your phone system keep up?
A cloud phone system opens the doors to automation processes made only possible with the advent of VoIP communications.
New RingPlan customers work with our onboarding team to build custom dial plans that optimize call flows according to business needs, discovering time-saving opportunities at every turn.

Optimized call operations alone can save hundreds of hours in wasted time, but combined with Sidecar Automation, can provide a competitive advantage, regardless of business size.
ZTelco's RingPlan phone app now gives users access to automation functionality in an easy-to-use, programmable automation feature called RingPlan Sidecar.
Customers can use RingPlan sidecar to program their own phone automation sequences and launch them at any time, during, or after a call.
Users can choose from functions like hold, transfer, conference, pause, merge, hangup, send a message, and more.
Create up to 48 custom sequences for various needs. See the full list here.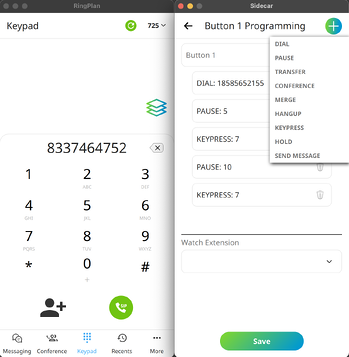 Create Your Own Custom Phone Shortcuts and Automated Phone Sequences
Learn about RingPlan Sidecar for Automatically Navigating Call Menus
Agile Business Growth with RingPlan CRM Integrations
Modern businesses, both big and small, manage their business with business management software such Microsoft Teams and Salesforce.
RingPlan integrates with this and many other softwares.
Use your favorite CRM to track calls and create your own call reports, or use RingPlan's native reporting tools to examine call data.
A CRM integration has the potential of making businesses more effective and easy to manage by providing one central hub of communication.

Perfect for Remote or Hybrid Work Teams

When building into legacy systems, RingPlan manages the testing required to ensure that the system works in accordance with service level agreements (SLA).
Set Up Your Business for Growth
By setting up these tools, not only are you better preparing your business to compete with larger organizations, you are setting up your business for future growth.
Every Decision that Affects a Small Business is a Big Decision

Something like adopting a new phone system with new tools can seem risky to owners that have been burnt in the past. This is the case even when the need for technological advancement is obvious.
ZTelco operates with a mindset focused on providing unrivaled customer service, regardless if users are looking for a small business phone plan or an enterprise phone plan, and we are continuously improving.
The RingPlan business phone system is a testament to that mission.
We seek to eliminate the fear associated with switching phone providers. Looking for a new VoIP phone provider is scary when you've already had a bad experience elsewhere.
Experience the ZTelco Difference – Request a RingPlan Demo Today
---