27 Jun, 2019
by ZTelco Business Communications
Cordless VoIP Phones for the Office – Yealink W60P
ZTelco is welcoming a new sleek cordless VoIP phone to our lineup of office hardware, maximizing our VoIP phone service offerings.
For customers who prefer the convenience of a cordless business phone, or for those who prefer a phone with a sleek design and a smaller footprint. The Yealink W60P business phones are the perfect answer.
Our Customers Demand the Best VoIP Phones
This premium cordless VoIP phone is designed with robust and scalable hardware, ideal for businesses that handle heavy call loads. This phone offers stable HD audio quality for clear communication. With a lithium-ion battery that lasts, for up to 30 hours, with up to 400 hours on standby. Users can be sure their calls won't drop because of a dead battery.
If the phone does happen to die, you can rest assured knowing you can charge this phone quickly from any device with a supplied USB charging port, or by placing the phone to charge on the supplied base.
Ideal for small to mid-sized business phone customers working in industries such as warehousing, catering, retail, or in factory settings where mobility is key to operations.
Our Business Customers Want Convenience
This premium VoIP phone is capable of handling heavy call loads without forcing one to be tied down to a desk. Customers are able to freely move about the office while maintaining crystal-clear audio up to 50 meters indoors and 200 meters in outdoor or open settings.
The compact design of this phone leaves behind a smaller desktop footprint than comparable wired phone options, yet is thinner and lighter than most other cordless phones.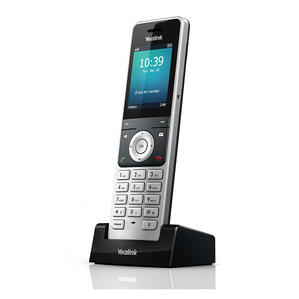 Our VoIP Phone Customers Want to Grow
The Yealink W60P works with the W60B DECT Base that supports up to 8 handsets, 8 SIP accounts. Use this base if you want to manage up to 8 concurrent phone calls at once.
ZTelco offers the latest in business phone services, hardware and technology. Contact us if you want to take advantage of this or any other VoIP phone from our portfolio.
See More VoIP Phones, Ask for Our Hardware Guide